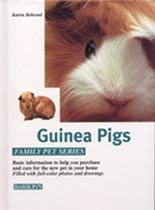 Guinea Pigs: Family Pet Series by Katrin Behrend
Published in 1997 by Barron's Educational Series, Inc.
127 pages
Lots of pictures! Satins, babies, pigs eating, grooming themselves.
Pictures and information on related, wild guinea pig species.
Some of the photo captions can be confusing as to the breed of the guinea pig.
The book was translated from German and originally used the British standards.
So some of the British and U.S. breed names are intermixed.

Contents
The guinea pig's origin
Things to think about before buying
Equipment and housing
Good nutrition
Where to get a guinea pig
Preventive care and health problems
Behavior
Getting the guinea pig settled with you and other pets
Training a guinea pig

Back to library.