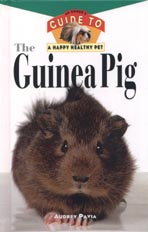 The Guinea Pig: An Owner's Guide to a Happy Healthy Pet by Audrey Pavia
Published in 1997 by Howell Book House
126 pages
This book has a lot of great pictures! Many cute piggies!
Interesting information on the guinea pig in other cultures today.
It talks about first checking with rescue shelters when getting a guinea pig.
Contents
History of the guinea pig
Guinea pigs as pets
Breeds of guinea pigs
Bringing your guinea pig home
Indoor and outdoor guinea pigs
Nutrition and grooming
Keeping your guinea pig healthy
Understanding your guinea pig
Fun with your guinea pig
Resources

Back to library.