Michelle's Guinea Pig Information
General guinea pig information:
Scientific name: Cavia porcellus
Average life span: 5 - 8 yrs
Average adult weight: 2-3 lbs
Ideal temperature range: 65 - 75 degrees F
Guinea pigs cannot make their own vitamin C, so it must be added to their diet.
Sources of vitamin C include: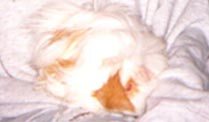 green pepper
kale
citrus fruit (oranges and lemons)
collard greens
romaine lettuce
parsley
strawberries
If you need to change your guinea pig's brand of food, do so gradually over a few days, by mixing it with the current brand.
If you just switch them, your guinea pig may stop eating.
I had this happen once with 2 of my guinea pigs. I had to take them to the vet and they were put on antibiotics.
I had to feed them by hand for awhile.
Bedding Information:
Cedar shavings - Not good for guinea pigs as it can cause
respiratory problems.
Pine shavings - Not expensive. There is some debate as to whether
it can cause respiratory problems. Safe for most pigs though.
Corn cob bedding - This is hard for the pigs to stand up and beg on!
And it gets stuck in the perianal sac of one of my males.
Carefresh - This is very absorbent, but expensive.
Breeding information:
Females should not be bred before they are 4 months old.
If they have not been bred by the time they are 1 year old,
they should not be bred at all.
Their pelvic bones fuse together, which can result in the death
of the babies and the mother.
Litter size: 1 - 6 pups
Gestation (length of pregnancy): 63 - 68 days (approximately)
Need a translation of this page? Try these...
French German Italian Portuguese Spanish
Translations courtesy of AltaVista
Michelle's Guinea Pig Page Copyright © 1997